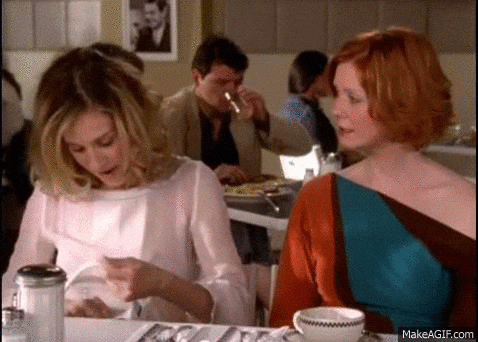 His name was Brad; tall, lean, dark brown hair and with a smile that would melt any woman's heart. I met Brad when I was out with a group of friends after a sporting event. He was with some mutual friends at the bar and we ended up gravitating towards each other as the night grew older. He was very charming, outgoing and genuine. When he would laugh and show off his sparkly white teeth I could not help but stare at that handsome smile. It was starting to get late and I needed to go home. He offered to walk me home, as I lived two blocks from the bar. He walked me home and we exchanged phone numbers. It had been a long time since I had met someone where it was instant chemistry, I could not wait to see this person again.
We talked three days later and made plans to go out to dinner the following week. He worked down the street from my condo, so it was convenient to meet after work. I picked out a causal restaurant to walk to; I wanted to keep the date light and fun. We sat at the table talking endlessly for five hours. We had the same sense of humor; we made stupid jokes all night long. I don't think there was a time on the date that I was not smiling, plus he was easy on the eyes. We pretty much shut down the restaurant that night as we didn't want the evening to end. We left and he walked me home; I said thank you for dinner and we hugged good bye. I told him I would call him when I got back in town as I was leaving the next day for vacation and would be gone a week. I must have made a good impression on him because five minutes later he was calling me while he was driving home. We talked on the phone for another hour just rambling about nothing and laughing the whole time.
The next day to my surprise he messaged me saying what a good time he had and asked if I needed a ride to the airport. Of course I said yes! He picked me up and we went to go grab a quick drink before my flight. He was so sweet, I was so happy he was making the effort to see me before my trip. He dropped me at the airport and like a gentleman; he got my luggage for me and hugged me good bye. I blew him a kiss as he drove away. This was a fantastic start to a potentially new relationship…
I went to go visit family across the country and also made a stop at my best friend's new place. My best friend had just recently moved away and I thought it would be nice to go see her home. I had so much fun on my trip going to a couple of different states and visiting with family and friends. I messaged Brad pictures of my adventures on my trip and he always was quick with a response.
He must have known when I was flying home because when I turned my phone on once I landed he had messaged me inviting me to dinner with his friends at a restaurant close to my place. By the time I was in a taxi heading home, he was wrapping up dinner. He persuaded me to meet up with him for a drink. I literally came home, dropped my luggage in the middle of my living room and quickly threw on a dress and heels and dashed back out the door. This is very unlike me to do, especially after being on a plane for 6 plus hours, but he was worth it, so I thought…
I met up with him at a bar a block from my place and it happened to be the grand opening of the newest night club across the street. He was on the guest list so we didn't have to wait in line. It was crazy, I had just landed in town less than an hour ago and I'm at a night club on a school night! Yes, he was that cute because I didn't even think about having to go to work the next day. After a bit of yelling at each other because the music was so loud, I told him I would walk him to his friends because he was too drunk to be alone. He looked like a lost puppy when I told him I needed to get home. Then he tells me, "I don't want to hang out with my friends, the only reason why I stayed downtown was to see you." Of course that was all that it took for me to invite him back to my place. I made sure to let him know that he was going to spend the night in my guest room and there was not going to be any hooking up. I really liked this guy; I didn't want to screw it up.
We got back to my place and I made us a drink and I changed into my pajamas. He watched me unpack as we talked about my trip. It was getting pretty late at this point, so I put him to bed and kissed him on his forehead. I went to my bedroom and fell asleep and then in the middle of the night I get this tap, tap. I wake up and he is kneeled down in front of my face asking if he could cuddle with me. He was so cute and I was half asleep so I said fine, I just wanted to get some sleep. In the morning I took him to his car on my way to work, and that's when he invited me to go see Journey the next night in Vegas. I told him that I would look at flights and I would get back to him.
I called him after a couple of hours and we booked our flights to Vegas. Our third date and I was getting on a plane with this person. I was going to be coming home hating him or really liking him; there would be no grey area. We flew off to Vegas and he was so adorable in every way. I felt like we had been dating for a while and it only had been ten days since our first date. We went to the concert and Journey performed songs from their most recent album, which we had never heard before. We ended up leaving the concert about half way through and went to the blackjack tables for the rest of the evening. We seemed to have fun no matter what we were doing. We walked around the casino talking and people watching before we headed back to the room for the evening.
We got ready for bed and within a minute we were kissing very slowly and gently as this was our first kiss we shared together. One thing led to another and the next thing I knew we were having sex. I told him to be gentle as this was the first time I had had sex that year and probably been about eight months since the last time I was with someone. His body felt so good and it was nice to be with a guy who wasn't a player, but someone with genuine intentions. We woke up the next morning and had sex again and at this point I could barely walk and my inner thighs were hating me. It was just a reminder of how much sex I wasn't having.
We finally made our way down to the pool to layout until we had to catch our flight. Like the good guy he is, he left to go get us drinks. When he left, I had to throw some trash away and that's when I fell and completely ate shit. On the way back to my chair I lost by balance and twisted my ankle. I had a bunch of male lifeguards surrounding me to make sure it wasn't broken. Brad returned and saw all these guys at my feet and was wondering what the hell was going on. My ankle was covered with ice until we had to leave.
We got to the airport and my ankle started swelling double in size, but oh well, I was too busy putting little kisses all over Brad's handsome face. Once we landed back at home, just when I think Brad could not get any cuter, he goes and grabs me a wheelchair so I didn't have to hobble out to the car. We went back to my place and he spent the night. We had sex again that night and I was in so much pain but it didn't matter. I knew my body would bounce back after a couple of days.
We continued to see each other here and there. He had to balance dating me, taking care of his two teenage kids and a busy work schedule. Then right before I was leaving to go on my big vacation to Europe with a girlfriend, he took off to go to Vegas that weekend for a friend's birthday.  He was supposed to take the first flight home Sunday morning and we would have the whole day together before I left for two weeks. He called me first thing Sunday morning to let me know he missed his flight. I was very upset that he could be so irresponsible. Since his friends weren't leaving until Monday, he decided to stay in Vegas and party it up some more. He finally called me when he landed on Monday to apologize and tell me about his trip. And he included one little detail that I didn't pay much attention to; that his ex-girlfriend of two years had reached out to him while he was on his trip. That little detail didn't have much significance to me at the time. It was going to a big factor later.
He and I didn't have time to see each other before my trip as he was busy with work and kids and I had to pack. We talked every night for a couple hours on the phone to make up for not seeing each other before my trip. I took off and went to Casablanca, Morocco first. I fell in love with the food and the people. Everyone was so nice and you could eat like a King for cheap. Brad and I talked and texted every day while I was in Morocco. Then a couple days later we took off to Barcelona, Spain. That is when Brad did a total 180, it was crickets pretty much after I landed in Spain. I didn't understand what happened, what could have changed between us when I wasn't even home to screw things up?
I was so preoccupied with Brad that I wasn't having a good time. I was bitchy at times with my girlfriend because he was consuming my brain. My girlfriend and I went out to a club one night, it was bugging me that I still had not heard from him. We got back to the room and I messaged him, "I haven't heard from you, have I done anything wrong?" I knew I had not, but I didn't want to put him on defense, I wanted an honest answer.
I woke up the following morning to this book of a text message from Brad. It started off telling me how wonderful I am and what an amazing person that I am blah, blah, blah… Then he goes on to tell me that his ex-girlfriend and him had been talking and she wanted to try to date again and he needed to figure things out. He had a history with her and he felt it was worth it to work on their broken relationship. And to top it all off, she was flying in the same weekend I was flying home. He was supposed to pick me up from the airport and we had plans to spend Saturday night and all of Sunday together. Those plans were shot. I replied back telling him that I hated everything he just told me and he could have waited to tell me when I wasn't half way across the world.  What does any girl who is on holiday in a beautiful place do? I put on my sexist bikini and went over to a fancy hotel and hung out at the pool all day drinking my troubles away. By my second glass of champagne I was fine (for now). My girlfriend and I enjoyed the rest of a trip together in paradise.
When I walked into my apartment from my trip that was when I was forced to deal with getting over him. I kept myself busy; I didn't want to give myself too much time to dwell on the situation. Slowly, he and I started messaging back and forth here and there. And then one day he shows up at my front door with his kids out of the blue. He was at a game with them and it started pouring down rain. I guess showing up at my door was a better idea than calling a taxi? I still to this day don't really know what that was all about. But we had talked that night when the kids were in bed and he told me about the weekend his ex flew out to "try" again. They spent the whole weekend fighting and the problems that they had in their relationship had reappeared instantly when they met up, and they never talked to each other again.
Brad and I never got back together. We still keep in touch and see each other every now and then. When we hang out, it is like no time has passed. There is never an awkward moment and all of the feelings that I felt about him reappear. I need to completely shut him out, so I can move on once and for all. But at the end of every failed attempt at a relationship I am still asking the question: Where is he?